Welcome to Law and Public Safety!!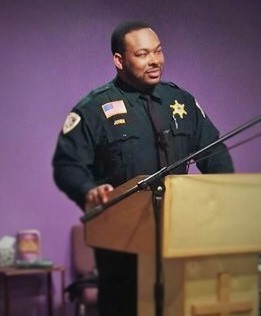 Jivaro Jones
email: jjones@hssd.k12.ms.us
contact: 662.252.2071
Greetings,
I am Jivaro Jones a proud native of historic Holly Springs, MS and graduate of the Holly Springs High School. I received my basic law enforcement certification from North Mississippi Law Enforcement Training Center in 2007 and completed Basic S.W.A.T. Academy in 2009. Throughout my career I have had the remarkable honor to serve my community in numerous capacities such as: Patrol Officer, Detective, School Resource Officer, Narcotics Agent, S.W.A.T team member, and Crime Scene Investigator. For the past eight years I have had the awesome pleasure to serve as Law and Public Safety instructor at the Holly Springs Career and Technical Center.
Online Instructional Times
Mondays and Wednesdays (7:30 -11:50)
Tuesdays and Thursdays (8:30-10:00, 12:30 -2:20)
Intervention on Friday (1:00 - 2:00)
Planning Time Daily (2:30 - 3:30)
Office hours Tuesdays and Thursdays (10:00 - 11:30)
Students are required to complete all assignments using the Google
Classroom links below. Also, students should use this link to access instruction/class time on designated days.
https://meet.google.com/lookup/g5n5w3rmg5?authuser=1&hs=179
https://meet.google.com/lookup/h6zpgwo2kf?authuser=1&hs=179
https://meet.google.com/lookup/e3jmyposat?authuser=1&hs=179
Friday's Google Meeting link:
https://meet.google.com/lookup/bzevyea2vl
FIVE (5) Helpful Internet Hints for Parents:

1. The hotspot from most phones can be used for internet access. Please check the impact it will have on your data package.
2. Parents should call the phone or internet carrier in their areas and see if carriers will give them temporary internet access or internet access at a lowered price to allow students to complete their work.
3. Family members may have internet packages that can be used with permission. Please check the impact it will have on the data package.
4. Parents and students can use their personal laptops to access assigned school programs if the laptop has internet access.
5. Some community businesses may have free hotspots that allow the public to access their internet at no cost.

Note: These are only helpful hints. Please check for any requirements, permissions, or guidelines that must be followed.